Xanadu is dedicated to Mandrake the Magician and his adventures in the comic section of the newspapers. At Xanadu you will find informationes about the the newspaper strips, Mandrake in comic books, the creators, and more ...........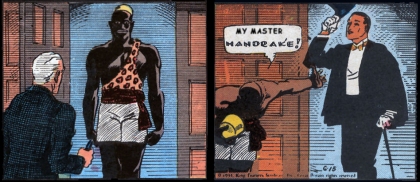 The first pictures - Lothar introduce Mandrake
Lee Falk and Phil Davis created Mandrake the Magician back in 1934 and thanks to Fred Fredericks Mandrake's adventures still are to find in various newspapers around the world.
The golden age of newspaper strips have passed long time ago, and nowdays there are only a few newspapers who prints the adventures of Mandrake.
This site is my way to bring the magical univers of Mandrake to old and new readers, and my humble hope is that this site can help the Mandrake strip keep on in the newspaper.