| | |
| --- | --- |
| Mandrake the Magician in Comic Books | World Index |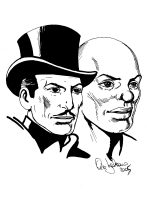 Ciro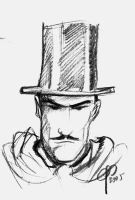 Olivier Papon
The first Mandrake daily strip was publicized in the US newspaper The New York Evening Journal the 11 June 1934, and shortly after KFS translated the strip to Italian and the first six Italian strips become publicized in the L'Avventuroso issue 15 of the 20. of January 1935.
After the first adventure was serialised in L'Avventuroso the strips was collected into an album and at the 1. of October the Italian publisher Nerbini printed the worlds first Mandrake comic book – Mandrake L'Uomo del Mistero.
In the following years more and more publishers from various countries start printing Mandrake in various comic books, serialized, as backup figure and in comic books devoted for our hero.
On these pages I will try to collect some information about the various comic books with Mandrake.
But it is a gigantic project and need time to grow and become finish.
In my work there are several other collectors who have help me with information and pictures of covers. So thanks to:
Bryan Shedden, Graeme Atkinson, Dan, Vikram Singh, Ajay Misra, Oktay Izm, Fehmi Ardali, Kaya Özkaracalar, Ulises Mavridis, Quiringh Beerta, Einar Johnskås, Pierre Sund, Jostein Hansen, Ulf Bennetter, Jean Carlos Covezzi, Vuk Markovic, Miha, Magnus Magnussen, Olivier Papon.
Some are not mention here but I would also say a big thanks to them all - and to all them who are visiting my site.