| | |
| --- | --- |
| Romano Felmang (1941 - ) | Mandrake and the Phantom |


from Il nouvo vicino
One morning at the end of 1963 Felmang noticed issue 51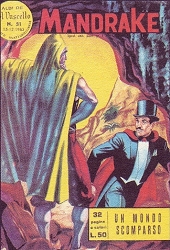 issue 51 of Il Vascello Mandrake at the newsstand. It was the Un mondo scomparso made by the Italian artist Domenico Mirabella. He bought it and found that Fratelli Spada Publications were produced in Rome.
He considered the possibility of pursuing a cartoonist's career. After telephoning the next day after he went to via Enea 77, offices of the Fratelli Spada press, and presented himself as an illustrator of comics with zero experience.
Daniela, a young woman working there gave him two issues of L'Uomo Mascherato from the American Adventures Series. One was issue 60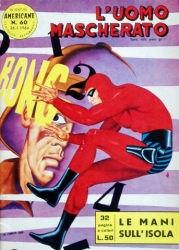 Le mani sull'isola (Sy Barry's The Island of the Dogs) - saying:
These are recent stories of the Phantom from the United States; the production is syndicated, but it's not enough to cover our weekly requirement. For this we need illustrators who imitate Sy Barry, the leading artist of the American comic-strips. Make us a couple of trial panels in this style!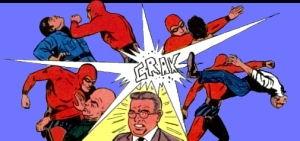 from Sabotaggio aereo
During the following days he tried several times to draw The Phantom of Sy Barry, but the results were very poor. He could not confront such a demanding character tout de suite and succeed in imitating an artist, whom he considered the best at that time. So he had to practice and wait for a later opportunity.
In 1966 he made his first 8 pages Phantom story Kaniska and next made his debut as a comic book artist drawing a full length Phantom story called I Ladri della tomba del Gran Re for the Italian publishers Fratelli Spada. He followed with some more Phantom stories and did the pencil work for A Todaro on two Mandrake stories. Felmang made about 30 covers for Fratelli Spada and Editions des Remparts for Mandrake, The Phantom, Rip Kirby and Secret Agent X-9.
He married in 1980 and have two children, the twins Giada and Daniele.
----------------------------------------
Fratelli Spada - Mandrake
#
Title
Issue
Date
Italian Mandrake Series
Artist
1
French
Il nouvo vicino
108
issue 108
1969
Il Vascello Mandrake
Angelo Raffaele Todaro (*)
2
French
Suspence a sud-ovest delle Caroline
195
issue 195
1971
Il Vascello Mandrake
Angelo Raffaele Todaro (*)
3
The Tunnel of Love
[-]
1972
Never printed
Felmang
Notes:
(*) Script: Giovanni Fiorentini, Felmang helped with the pencil work.
Covers - Mandrake
For the Italian Mandrake published by Fratelli Spada.
↠ Samples: - 91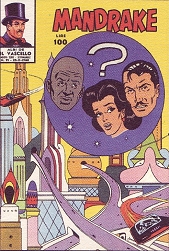 issue 91 - 95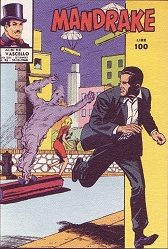 issue 95 - 96

issue 96 - 98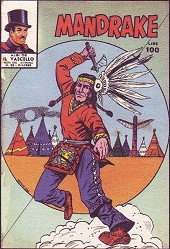 issue 98
For the French Mandrake published by Editions des Remparts.
↠ Sample: - 200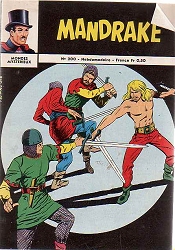 issue 200
For the American Comics Revue magazine.
↠ Sample: - 232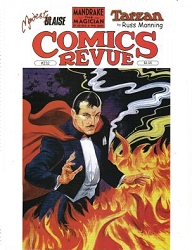 issue 232
----------------------------------------
Fratelli Spada - The Phantom
#
Title
Issue
Date
Italian Phantom Series
Assistant
0
El Diablo
Kaniska (*)
[-]
1966
Newer printed
[-]
1
first page
I Ladri della tomba del gran re
134
Mario Caria
1967
I Classici dell'Avventura
[-]
2
Corsa infernale
15
Mario Pedrazzi
1967
Avventure Americane Nuova Serie
[-]
3
L'invasione dei mercenari
23
Sy Barry
1967
Avventure Americane Nuova Serie
[-]
4
Chi scherza col fuoco
90
Angelo Todaro
1968
Avventure Americane Nuova Serie
[-]
5
Sabotaggio aereo
104
issue 104
1969
Avventure Americane Nuova Serie
[-]
6
Smeraldi irrangiungibili
113
USam & A.Todaro
1969
Avventure Americane Nuova Serie
Angelo Raffaele Todaro (ink)
7
Un mistero da svelare
183
issue 183
1970
Avventure Americane Nuova Serie
Mario Pedrazzi (inks)
Notes:
(*) Felmang wrote and drew his first Phantom story, Kaniska, in 1966. The story ran for 8 pages and was never published in it's original form. It did appear in an Italian pocket magazine called Sylvie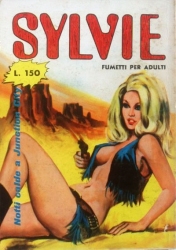 issue 1 ( from June 1971), and was recently reprinted in Svint Comics. However, the central character was changed from The Phantom to El Diablo.
Fratelli Fabbri - The Phantom
Felmang drew another Phantom story which ran for 30 pages near the end of 1974. This story was created for the Italian publisher Fratelli Fabbri, but was never published because the rights could not be obtained.
Team Fantomen - The Phantom
Since 1987 Felmang have done the pencil work for about 90 Phantom stories for the Team Fantomen. A collective term for the artists and writers, responsible for the Scandinavian production of stories about the Phantom, closely tied with the production of the Swedish Fantomen magazine. In about 22 of these stories he also have done the ink work.
Covers - The Phantom
For the Italian L'Uomo Mascherato published by Fratelli Spada.
↠ Samples: - 93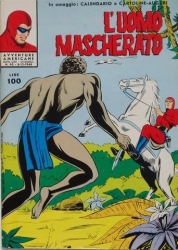 issue 93 - 94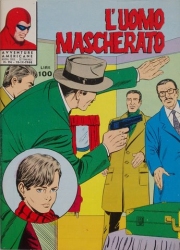 issue 94 - 96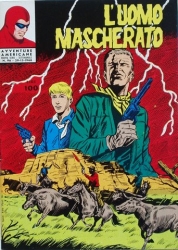 issue 96 - 99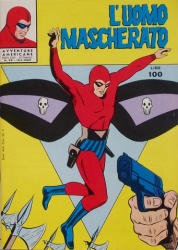 issue 99 - 100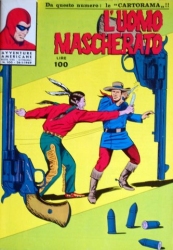 issue 100
For the French Le Fantôme published by Editions des Remparts.
↠ Samples: - 231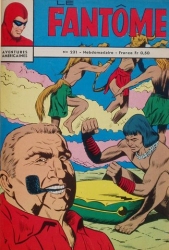 issue 231 - 232

issue 232
For the Swedish Fantomen magazine published by Egmont.
For the Australian Phantom magazine published by Frew.
↠ Samples: - 1080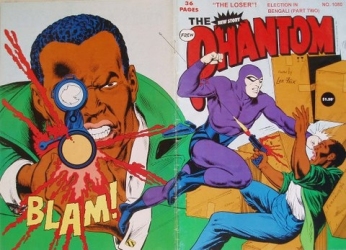 issue 1080 - 1152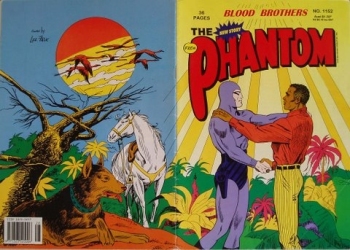 issue 1152
For the American Comics Revue magazine.
↠ Samples: - 75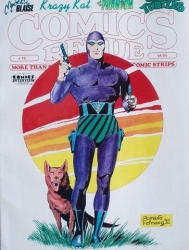 issue 75 - 88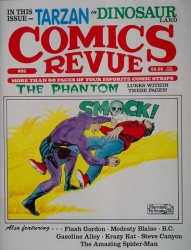 issue 88 - 105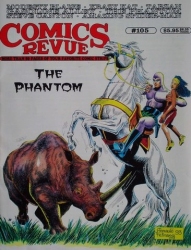 issue 105 - 138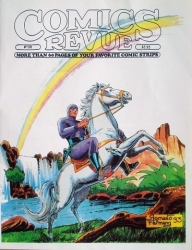 issue 138
----------------------------------------
Covers - other
For the American Comics Revue magazine.
↠ Sample: - 226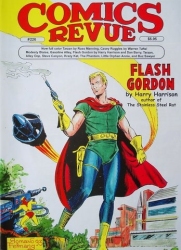 issue 226
----------------------------------------
Sources:
Romano Felmang: An Italian for Comic Books - Translated from the Italian magazine Fumetto by Bob Griffin
Romano Felmang
The tcc collection