| | |
| --- | --- |
| The Story of the Phantom | a novel by Lee Falk, Avon 1972 |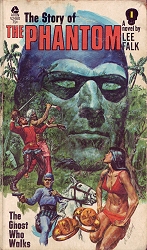 first novel in the Avon serie
THE GHOST WHO WALKS – THE PHANTOM!
Over four hundred years ago, the lone survivor of a pirate attack on his ship swore to devote his life to the destruction of cruelty and injustice.
He was the first Phantom!
His son and his son's sons -- generation after generation -- succeeded him in the crusade. Their faces masked, they were loners who lived lives of mystery and danger moving in and out of shadows stalking feared by wrong-doers everywhere . . .
And so the legend grew - the legend of Kit Walker ... the Man-Who-Cannot-Die ... The Ghost Who Walk ... The Phantom!