Narda once change her hairstyle, months before she go to the hairdresser's.........


Long hair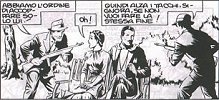 Short hair
In the dailies the last picture of Narda with long hair was the 01 october 1948. The 09 october Mandrake talk with her again and she now have a new hairstyle, and Mandrake didn't even notice !
First time I read this adventure I thought Narda had been to the hairdresser one day between the 1 and 9 of october. But strangly, she still have long hair in the sundays from october.
When did she go to the hairdresser ?


walking to the hairdresser
A picture of Narda from sunday 21 nov. 1948 show that her hairstyle was half long hair, and after a visit to a hairdresser the 30 jan. 1949 she turn up with short hair.
Almost two months later, hmm.....
Phil Davis must have done the sunday page from 30 jan. 1949 at the same time he draw the dailies from 1 to 9 october 1948.