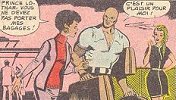 Karma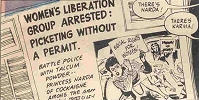 Karma arrested
Princess Karma came to visit her uncle Lothar ("The 3D Monster" ms-700118-700419) and they soon fall in love ("Karma's Adventure md-700309-700725). She settle down in US an find herself a job at the Inter-Intel ("The Shark" ms-710307-710523). In the early days she was involved in the woman liberation movement and even got Narda arrested for picketing without a permit (The Clay Camel md-701207-710306). She did not work long at the Inter Intel and soon she works as a model.
In 1990 she have a brother Willy ("Voodoo" md-900319-900707), a famous rock star named Willy-Wow, who look almost like Michael Jackson.
One strange thing about Karma is her memory. In several adventures Mandrake explain things for her - but often he have done this before !