| | |
| --- | --- |
| Mandrake the Magician's family | Lenore |
Lenore, Mandrake's sister - in the Phil Davis era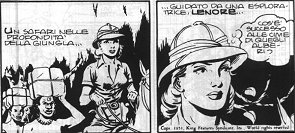 Leonore in 1951
Mandrake are not a person who telling much about him self. 14 years after Narda had meet him she found that Mandrake had a twin brother, Derek.
Two years later (1) Mandrake receive a letter from Lenore, asking him to help her. When Narda try to ask who Lenore was – Mandrake only show her a picture of a beautiful girl, signed "To my Mandrake – all my love – always Lenore"
Soon our tree friends headed to the jungle and solved the trouble Lenore had with the Oswali tribe, due to her discovery of a crashed UFO in the jungle. Then Mandrake find time to tell Narda that Lenore was his little sister. And that she hold herself away from Mandrake because she feel that her fame disappeared in the shadow of her more fame brother.
Later the same year Lenore also celebrate Mandrake's birthday (2).
Third and last time Lenore had a part in the adventures of Mandrake she was in the Alps (3) and once more needed help from her older brother. Strangely her name was changed to Leonore during this adventure, and then back to Lenore.
| note | Ref: | Title |
| --- | --- | --- |
| 1 | md-061 | Lenore |
| 2 | md-062 | Mandrake's Birthday |
| 3 | md-100 | The Dollmaker |
Lenore, Mandrake's sister - in the Fred Fredericks era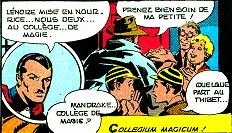 Basil with family
In the first Fred Fredericks adventure with Derek (4) Mandrake told Narda about his twin brother Derek and his baby sister, Lenore. Their mother died when they were small, it was hard for their father, a (nameless) travelling stage magician to raise them. So when the twins was about 10 years old - A foster home for Lenore, and the twins followed their father to the College of Magic.
The year after Karma was first shocked when she saw Mandrake close together with a beautiful girl at Xanadu (5), but it was only Mandrakes little sister - Lenore.
After receiving a prize for a documentary film on the Amazon Lenore had meet a man named Victor. He fall in love with her but she was not interested. But Victor starting chasing her and said that if she not marries him, he would kill her. She once more needed help from her big brother....
Theron finally told Mandrake the truth about his origin (6). He had been married 12 times:
- With his 11th wife he had the son Luciphor (The Cobra).
- His 12th and last wife, Eleanore, died when she gave birth to the twins Mandrake and Derek.
During the war times in Tibet all the children was sent to a safer place for children. The twins left the College of Magic with Basil the Great, and when he become ill he returned with the twins and died shortly after. For many years the twin brothers believed that Basil was their father. Theron did not mention Lenore in this story!
Next time Theron telling about Mandrakes childhood he said that the twins were split apart (7) when their mother died. Eleanore's father, the duke, brought Derek to his palace - leaving Mandrake at the college. And that Basil brought only Mandrake with him during the war years in Tibet. Theron did not mention Lenore in this story!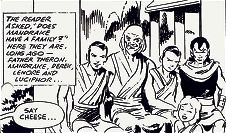 Theron with family
Some years later Theron re-told Mandrake's early years (8). And since he now included Lenore as his child he must have re-married, because when the twin brothers returned to the College of Magic at the age of 6 they suddenly have a baby sister named Lenore.
Who is Lenore ?
We know that Luciphor, Mandrake and Derek was born at the CM, and that Mandrake and Derek was away from age 1 to 10 (or age 1 to 6 ). During these years Lenore was born.
If Lenore was together with Basil and the twins and ended up in a foster home (4) she could not be a daughter of Theron. She was not born when Mandrake left CM. Then she must be a daughter of Basil, perhaps adopted by Theron when Basil become ill and died ?
Theron could be the father of Lenore if she was born at CM. He have not mention that he re-married after the death of the mother of Mandrake (6), but a daughter was born..
So, is Lenore the real daughter of Theron - the daughter of Basil, and foster daughter of Theron - or daughter of some unknown parents, and foster daughter of Theron - or ??
| note | Ref: | Title |
| --- | --- | --- |
| 4 | md-163 | The Evil Twin |
| 5 | md-169 | The Cooler |
| 6 | md-176 | Mandrake's Family |
| 7 | md-187 | Behind Death's Door |
| 8 | md-204 | King Kered |