| | |
| --- | --- |
| In the land of Magic | Theron in the Phil Davis era |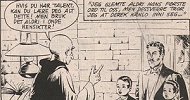 Theron, Mandrake, Grando and Derek
Theron was introduced when Mandrake first time told Narda about his childhood ("Derek" md-481227-490423). At the College of Magic, in a hidden valley in Tibet, Theron was the greatest seer of them all. Mandrake and Derek stayed and study all kind of magic at the College of Magic for 6 years. In the adventure of ("The Swami" md-501204-510317) Theron telepathy took contact with Mandrake, asking for help. Mandrake was a bit surprised because he did not believe that Theron still was alive. An other magican from Mandrake's class at the College of Magic ("The Mysterious Mr. Bean" md-530622 -530926) fall in love and try to use his magical powers to force the girl to marry him against her will. After a magical fight Mandrake sent Mr. Bean to the yale at the College of Magic.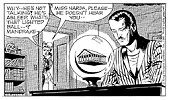 a mentally traveller
During his adventures Mandrake became a world traveler but the first time he visit Theron after his graduate he use a crystal ball ("Master of Magic" md-630805-631207) and travel mentally to the far-off Tibet.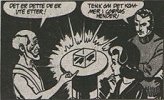 Theron by one crystal cube
Theron in the Fred Fredericks era
Theron made his first appearance in the F. Fredericks era in a adventure where the Cobra ("The Cobra Strikes" md-691117-700307) was after the mystique crystal cube. While in the sundays he ask Mandrake for help against enemy invaders ("The Hidden College of Magic" ms-710530-710829), he is named as the master of masters. After this he's often a part of Mandrake's adventures, mostly when the Cobra is involved.


old family
Theron the grand master of Collegium Magicos is a man of mystery and his age is even more mysterious, in the year 1980 he is actually 333 years old ! ("Derek" md-800121-800426). He was born in 1647 and at the age 25 he became the grand master at the college of magic. It seems that Theron's is a bit uncertain ("Mandrake's Family" md-810316-811205) about his age and his family life, for shortly after he clamed to be both 305 and 310 years old. Due to that his father was 408 when he was killed by a donkey, Theron come from a family where they get very old indeed.
Theron has been married twelve times and said to had 30 - 40 children, only four of them are alive today. His wife no 11 was a witch of a nomadic people. She gave birth to Luciphor but leave her husband and child shortly after.
His wife no 12, Eleanora, was the only daughter of the ruling duke (brother of the king), they meet when she was 25 years old and Theron 275. They was only married one year when she sadly died when she gave birth to their twins, Mandrake and Derek. Luciphor was 15 years old ("Behind Death's Door" md-840820-850202) when the twin brothers was born, and the twins was split apart when their mother died. The duke brought Derek to his palace leaving Mandrake at the college.


Basil
During the war time in Tibet Mandrake and Derek was taken to a safer place for children by Basil, a student of magic. For many years the twin brothers believed that Basil was their father.
Theron clamed to be 308 years at age in this adventure. Some years later Theron admit that he have had a few dozen wife's ("King Kered" md-891023-900317) and that he was 290 years at age when he married the 20 years old Eleanora. Theron clamed to be 315 years at age in this adventure. Theron must have re-married when the twin brothers was away for 6 years, because they suddenly have a baby sister named Lenore.


the happy family
If we look at the latest ("Mandrake's Wedding at the College of Magic" md-970804-980124) information about Theron's age then it seems that Theron was born in 1676, and his father was born in 1293 and died in 1701. Theron have four children who lives today; Luciphor, the twins Mandrake and Derek, and the daughter Leonore. Luciphor was ten years old when the twins, Mandrake and Derek, was born. He was 25 years old when he have to run away from his angry father after he tried to rob the college's treasure and kill Mandrake.
Mandrake is named after Mandragora, the first grand master at CM.


Working on this part !